Jackery Explorer 240 Portable Power Station – With Jackery's entry-level Explorer 240 portable power station, you can easily stay charged outdoors and on the go. Charge smartphones, tablets, laptops, cameras, and basic small appliances like an electric blanket, fan, etc. Take the lightweight Explorer 240 with you on cottage trips, hikes, camping, the park, or anywhere else your weekend takes you. Power up your adventures with this portable camping solar generator now.
Jackery Explorer 240 Portable Power Station
Features
Included in the "Best Portable Power Station for Use in the Outdoors" by Digital Trends
Multifunctional Outputs: The Jackery Explorer 240 has a 240 watt-hour (16.8Ah, 14.4V) lithium-ion battery pack. It features 1* AC outlet (230V 200W, 400W peak), 2* USB-A ports, and 1* DC carport. Power many types of equipment such as a phone, laptop, light, fan, mini cooler, etc. with the pure sine wave inverter.
An Excellent Entry-Level Power Solution for Outdoors: A solid portable power solution that can power your iPhone, laptop, and lights while camping or working from home. The lightweight Jackery Explorer 240 has a solid handle for easy carrying. Its simple push-button operation makes it easy to use wherever you go.
Green Solar Generator: The Jackery Explorer 240 has a built-in MPPT controller for maximum eco-friendly solar recharging efficiency with the SolarSaga 100W solar panel (sold separately). You can also recharge the Explorer 240 with a wall outlet, car outlet, and generator.
Jackery Explorer 240 Specifications
| | |
| --- | --- |
| Capacity | 240Wh (14.4V, 16.8Ah) |
| Cell Chemistry | Li-ion NMC |
| Lifecycle | 500 cycles to 80%+ capacity |
| Management System | BMS, Over Voltage Protection, Short Circuit Protection |
| Weight | 6.6 lbs (3 kg) |
| Dimensions (LxWxD) | 9.05 x 5.24 x 7.87 inches (23 x 13.32 x 20 cm) |
| Operating Usage Temperature | 14-104F (-10-40℃) |
| Certification | CEC, DOE, FCC, UL, CA Prop 65 |
| Warranty | 24 Months |
| Optional Accessory | Jackery SolarSaga 60W Solar Panel |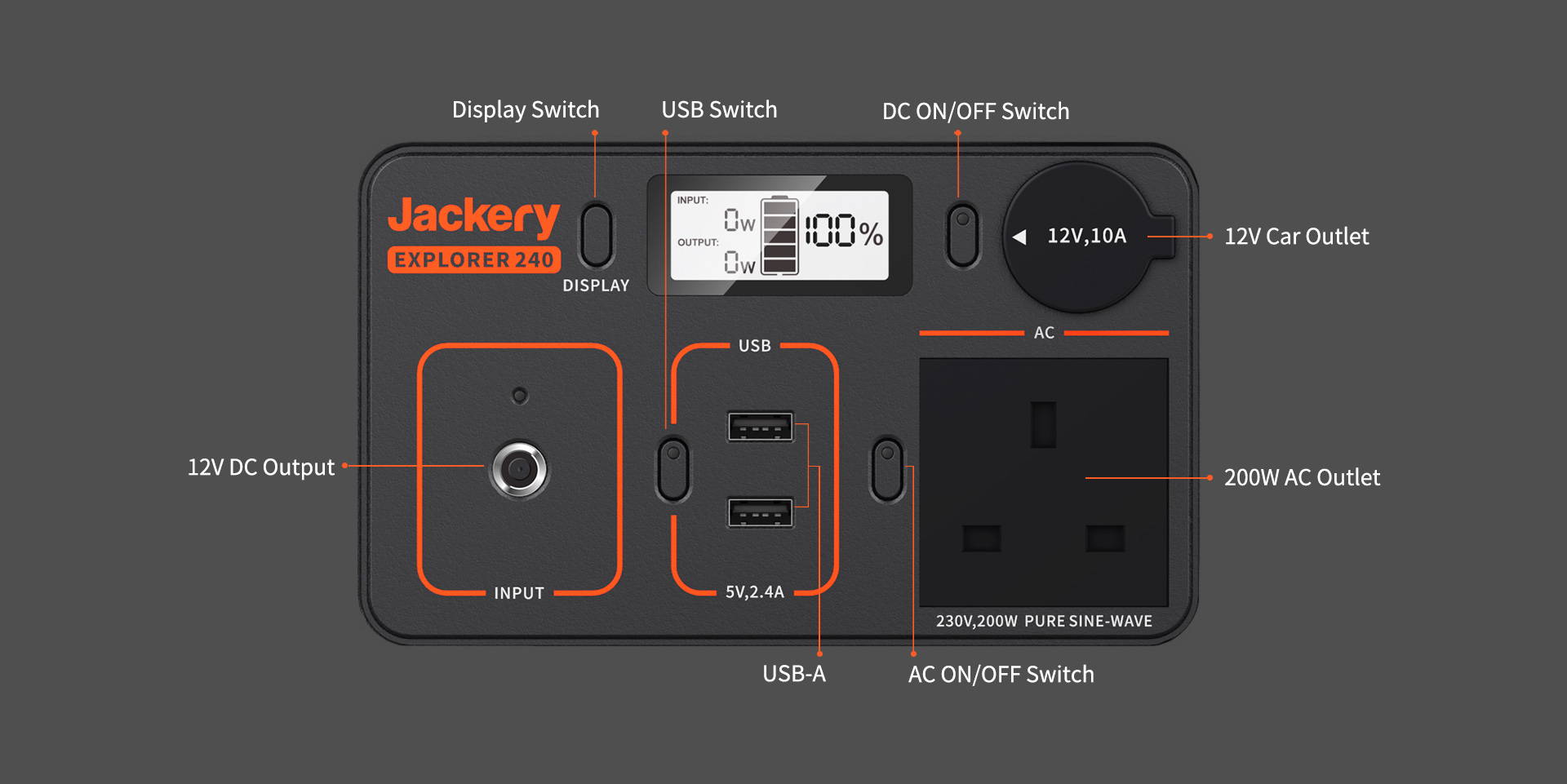 The built-in MPPT charge controller provides fast and efficient solar recharging. Recharge your power station with the sun in just 6 hours with the optional SolarSaga 100W solar panel.
Solar Recharging Steps:
Find the DC interface on the back of SolarSaga 100W.
Connect the DC interface of SolarSaga 100W with the DC input of the Explorer 240.
Please Keep the Following in Mind While Solar Recharging:
Recharging time varies depending on location, temperature, weather, etc. Therefore, the actual recharge time may be different.
Keep your portable power station away from heat and direct sunlight to extend its life span during recharging.
A battery management system (BMS) enables short circuit protection, voltage control, temperature control, and advanced safety features.
Other enhanced safety features include:
LCD screen with charge/discharge and battery life status
Switch with on/off indicator light for output ports
Equipped with a Lithium Nickel Manganese Cobalt Oxide (NMC) battery (i.e. the same type of battery that Tesla uses in their Powerwall units.)