Jackery Explorer 500 Portable Power Station offers power-to-go in a compact, lightweight design featuring multiple connections to charge your mainstream gear and more. Never worry about a wall outlet or long extension cords. So feel free to go and explore the great outdoors and run your appliances like a blender, pellet smoker, projector, and tools. It can also be used as an emergency backup power supply to run lights, laptops, phones, a small fridge, a CPAP, and other devices in the event of a power outage.
Jackery Explorer 500 Portable Power Station
Features
Large Capacity: The Jackery Explorer 500 has a 518 watt-hour (24Ah, 21.6V) lithium-ion battery pack and a pure sine wave inverter. It features 1* AC outlet (230V 500W 1000W peak), 3*USB-A ports, 2* DC ports, and 1*car port to run low to high power appliances, including a mini-fridge, an air pump, and TV.
Designed for Portability: The Jackery Explorer 500 portable power station is about the size of a basketball and has a solid handle. Its easy-carry and compact design make the Jackery Explorer 500 perfect for enjoying RV camping and road trips.
Four Ways to Recharge: The Explorer 500 has a high-quality built-in MPPT charge controller. This allows quick and easy green solar recharging when paired with the Jackery SolarSaga 100W solar panel (sold separately). You can also recharge the Explorer 500 with a wall outlet, car outlet, and electric generator.
Jackery Explorer 500 Specifications
| | |
| --- | --- |
| Capacity | 518Wh (21.6V, 24Ah) |
| Cell Chemistry | Li-ion NMC |
| Lifecycle | 500 cycles to 80%+ capacity |
| Management System | BMS, Over Voltage Protection, Short Circuit Protection |
| Weight | 13.32 lbs (6.04 kg) |
| Dimensions (LxWxD) | 11.8 x 7.6 x 9.2 in (30.1 x 19.3 x 24.2 cm) |
| Operating Usage Temperature | 14-104F (-10-40℃) |
| Certification | CEC, DOE, FCC, UL, CA Prop 65 |
| Warranty | 24 Months |
| Optional Accessory | Jackery SolarSaga 100W Solar Panel |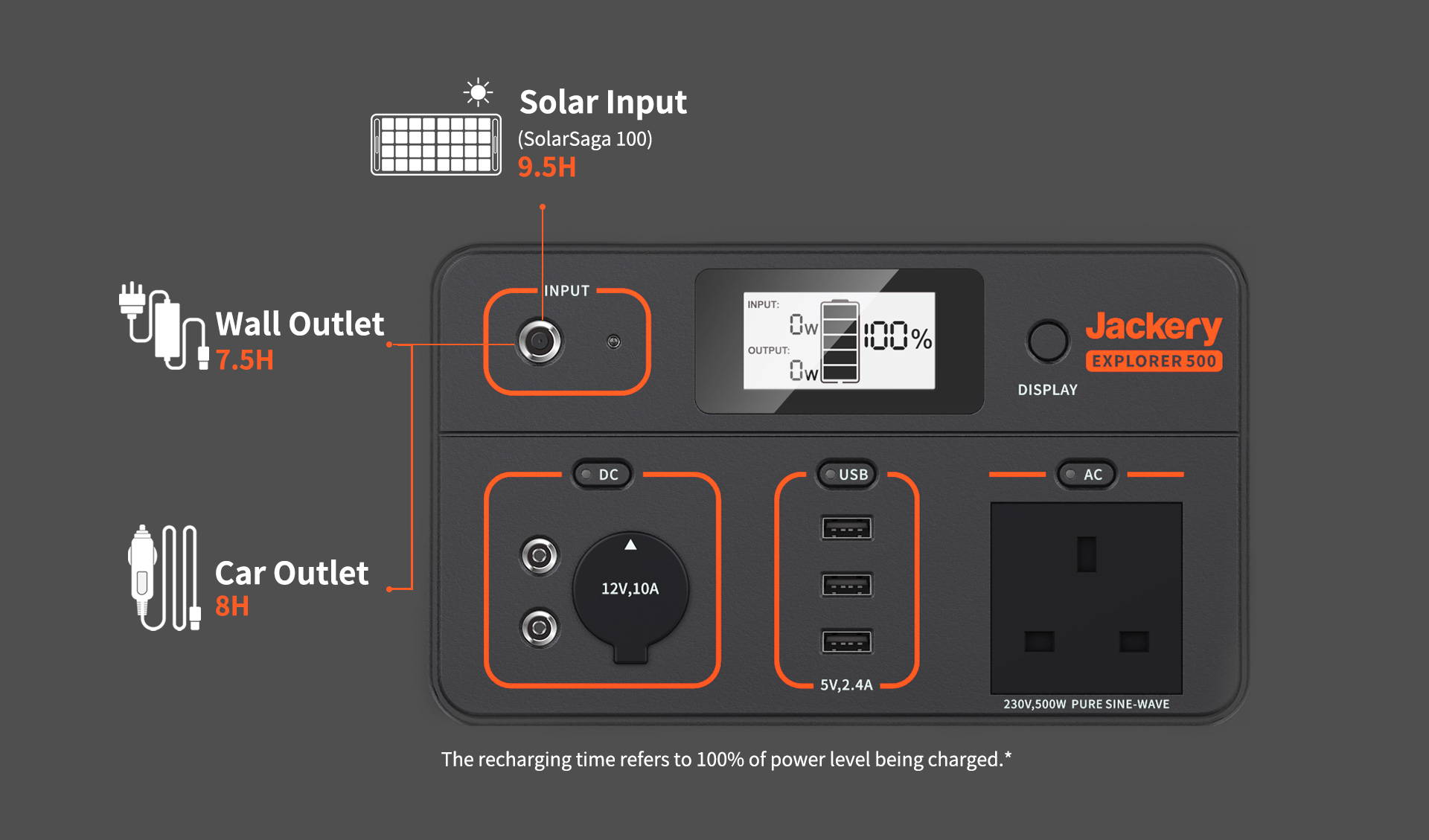 Connecting a SolarSaga 100W solar panel to the Explorer 500 Portable Power Station creates a solar generator. With our high-quality MPPT technology, the Explorer 500 can be fully charged under full sun in just 9.5 hours. With a Solar Generator setup, you can have an unlimited power source from the sun and always keep charged on the go.
Solar Recharging Steps:
Find the DC interface on the back of SolarSaga 100;
Connect the DC interface of SolarSaga 100 with the DC input of Explorer 500
Please Keep the Following in Mind While Solar Recharging:
Recharging time varies depending on location, temperature, weather, etc. Therefore, the actual recharge time may be different.
Keep your portable power station away from heat and direct sunlight to extend its life span during recharging.